If you are looking to add flavour to bread without changing your recipe, I have loads of suggestions in this article! In an older article, how to make bread taste better I discussed how to maximise the flavour of a bread recipe, but this post leans toward adding extra ingredients to transform existing bread recipes. Kinda for those on-the-fly days when you want to try something new! So here are a few flavours and ingredients you can add to bread dough.
Fresh or dried herbs
Including an aromatic herb can transform the flavour of your bread, one way or the other! Be careful as too much of a strong flavour can be quite unpleasant! Use hardy herbs than can withstand cooking. Generally, avoid adding acidic herbs like basil and chives to your dough, these are much nicer eaten raw. I'd rather add slices of tomato and cheese, or make a herby cream cheese and douse it on top of slices, but maybe that's my opinion. There is no right or wrong! Combining herbs with other inclusions is suggested. 
What herbs go well in bread?
Rosemary – Goes nicely with sweet honey
Thyme – Delicious with olives or a potato bread
Sage – Combine with something sweet or salty
Oregano – Tomato puree and dried peppers for a Mediterranean-inspired loaf
Majoram – Great with walnuts
Spices
Adding spices to bread can make or break your loaf! Seriously, they can make a beautifully amazing loaf, or the flavour becomes so overpowering you'll only enjoy half a slice! Be careful not to add too much spice, baking seems to intensify the flavour and warmth, so a little goes a long way! Some spices are antibacterial which means they will inhibit yeast activity. These spices are best rolled on top of the bread or, like in cinnamon rolls, they can be layered between the dough. Dried spices are preferred to fresh versions.
What spices are good in bread?
Chilli flakes
Cardamon 
Fennel 
Aniseed
Caraway 
Cinnamon
Nutmeg
Bay leaves
*Less than a quarter of a teaspoon of each spice will probably be sufficient!
Garlic
Garlic needs roasting to sweeten its flavour. You can do this by adding them to the top of a focaccia-style bread, but to add them into the dough you'll want to roast them beforehand. In fact, even if you are going to add garlic on top of your bread you'll find that pre-roasting the garlic produces a better flavour.
To roast garlic, season and drizzle a whole bulb with olive oil and wrap in tin foil. Bake at around 180C (350F) for 30-45 minutes. Once softened, let cool before adding them to your dough. Great baked with olives, cheese and hardy aromatics.
Seeds
To completely change the flavour of a loaf, add seeds! Ideally, they should be soaked in water and salt overnight to prevent them from drying out your dough and intensifying their flavour. You can also toast seeds before adding them to your bread dough to bring out "nutty" and flavourful aromas. Add them near the end of mixing if you are worried about them smashing up, or roll your loaf in seeds after shaping. So delicious and healthy, my three-seed bread is one of my favourites!
Suitable seeds for bread:
Poppy
Sesame
Pumpkin
Sunflower
Vegetables
Hard fruit and vegetables that soften when roasted can be used to flavour bread. You'll want to avoid vegetables you have to boil, these will soak up the water in the dough, making a dense loaf filled with rock hard veg after baking! Tomatoes, peppers, onions, potatoes, beetroot, courgette/zucchini, and figs can all be used in vegetable bread recipes. You can pre-roast the veg, or chop them into small pieces raw and add to the dough.
Olives
Not everyone's favourite, but I love olives, especially in bread. They can be added to any white bread dough, but a little sweetness and some extra olive oil complement olives nicely.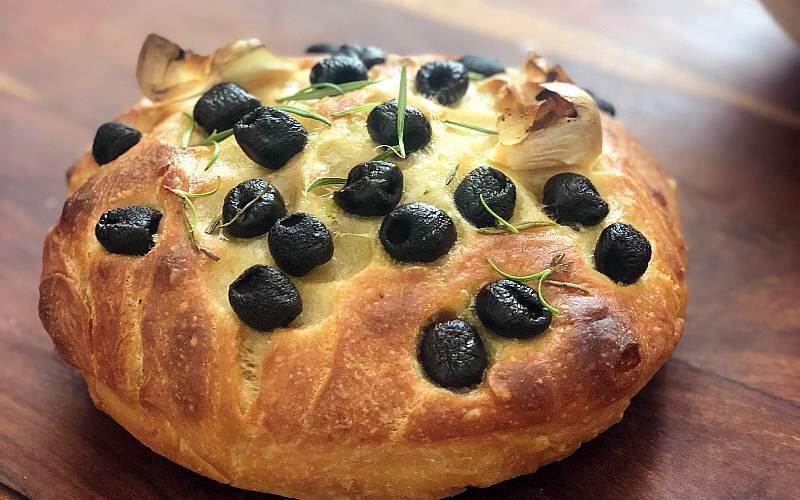 Nuts
Nuts are fantastic in bread! Popular nuts to use in savoury bread include walnuts. Nutty bread recipes work well with sweet or salty ingredients such as raisins and cheese. For sweet bread and pastries, try pecans, hazelnuts and almonds. 
Beer
Ditch the water, and bring out the beer, should be a motto for life! Beer offers a real, warm, hearty flavour to bread. It goes great with powerful flavours such as cheese and dried meats.
Ending thoughts
That's it, some great ideas that you can add to your bread recipe to make it more flavoursome! It can be a little tricky knowing when to add these ingredients, so I have another article you might want to read! See how to add extra ingredients to bread dough to get filled in. If you have any questions not answered in these articles, drop a message in the comments below.
Frequently asked questions about adding flavours to bread dough
If you've enjoyed this article and wish to treat me to a coffee, you can by following the link below – Thanks x