The holiday season is fast approaching and it's time to think about what gifts to get your loved one. If you have a bread baking fanatic to buy for, check out these Christmas gifts for bread bakers. If you would like any advice on these or any other bread-related presents, just leave a comment at the bottom of the page and one of our little elves will get back to you!
Home proofer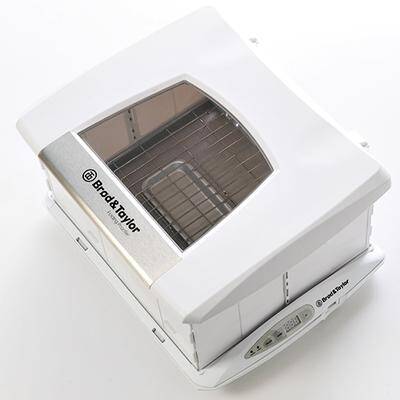 This Folding Proofer & Slow Cooker from Brod and Taylor is a revolutionary kitchen appliance. It combines the functions of an electric proofing box with a slow cooker. It's able to maintain the perfect temperature for bread proofing and slow cooking. But the proofing benefits are what makes this stand out to bakers. Proofing the dough will be easy with the use of this appliance. No more worrying about the weather, no more over proofing! This is also easy to use, versatile, and works with a minimal carbon footprint!
You can get this from Brod and Taylor
Personalised apron
To remind a special woman how much you appreciate them, what would they want more than a personalised apron? These aprons are made from 65% polyester and 35% cotton with high-quality materials to ensure durability and comfort.
Don't worry about the print because it won't easily fade even after washing. These aprons have deep pockets that can hold anything from phones to recipe notes. Making it easier than ever to take photos for Instagram while baking!
You can get a personalised apron on Amazon
Baking stone
Pizzeria-quality pizza can now be made at home just like it is in Italy with the help of this pizza stone. This stone distributes heat evenly and provides a nice crispy coloured crust. This also can resist up to 1400 F which means it can handle the most intense oven temperatures. It's not only for pizza, but it's a must-have for all types of bread baking!
 Check out this baking stone on Amazon.
Pizza and bread bakers peel
The Zulay Kitchen Bamboo Pizza Peel is the answer to getting bread in and out of the oven without any burns! Some flimsy pizza peels splinter, warp, and end up breaking in half, but this one is made of top-grade quality bamboo! This peel is not just for pizzas, it's great for bread too! It's the perfect combination for bakers who use a baking stone.
Get a Zulay Kitchen Bamboo Pizza Peel from Amazon
Challenger Bread Pan
The Challenger Bread Pan is a must-have for every serious home baker. Every detail of this was designed by bakers, for bakers to help bake better bread every time. It's a thick black cast iron pan for baking bread inside the oven, It delivers uniform, radiant heat to your bread, whilst retaining the perfect amount of steam. Expect bread with a beautifully browned crispy crust- You may get one as a thank you!
You can get this bread pan from Challenger Breadware
Baking t-shirts!
I just recently launched my first collection of shirts that are for sale. A baking t-shirt is one of the most thoughtful gifts that you could give! It allows them to show off their passion for baking in public, or around the house!
You can check out my t-shirt's website.
Rainbow Bagel Baking Kit
Making a bagel can take time, especially if they are to be more interesting. But with this amazing Rainbow Bagel Baking Kit from Farm Steady, your loved one will be making the most fun bagels in town!
Each order comes with everything you need for perfectly swirled colours on each bite of your homemade bagels. This is easy and also has instructions to make colourful bagels in about an hour!
You can get a Rainbow Bagel Baking Kit on Amazon.
Auntie Anne's Baking Kit 1.25-Pound
Who doesn't love Auntie Anne's pretzels, right? Well, there's no more waiting in line this Christmas! Now, Auntie Anne's Baking Kit is available to treat someone you love, and they're easy to make! It comes with everything needed to make 6 soft pretzels. 
Auntie Anne's pretzels are also available on Amazon
San Francisco Sourdough Style Starter Culture
A San Francisco Sourdough Style Starter Culture is the perfect gift for any sourdough lover! This is a no-fail sourdough starter that can help beginners make delicious, perfect bread every time. This comes with instructions to guide you through the process of making sourdough bread, and even has some recipes for starters and other fun ways to use it!
You can view the latest price of this on Amazon.
Bread Sling
Sourdough bread bakers would love this nonstick bread sling by 5 Star Moon bakery! It's perfect for baking sourdough bread and it makes the process so much easier. This nonstick silicone baking sheet helps to take baked goods out of the oven safely. With this, there are no more burns or accidents in the kitchen. Plus, these mats can be used over and over again. They come in an eye-catching design that will look great on any countertop too!
You can get this bread sling from Amazon
Proofing basket set
A Banneton Bread Proofing Basket Set is expertly crafted from premium and durable materials to guarantee safety and quality. The banneton is made using dye-free, chemical-free, and all-natural Indonesian rattan. This baking set provides everything needed to get started with sourdough or artisan bread. It comes with a banneton liner, bread lame, dough scraper, bowl scraper, Danish whisk, plus a free e-book with every purchase!
This baking set is available on Amazon
Bread Baker's Apprentice
The Bread Baker's Apprentice is one of the most comprehensive books on bread-baking available. With over 100 recipes, this book is ideal for beginners and even experienced bakers. It has sections on artisan baking, sourdough bread, and quick bread. This features more than just recipes, but step-by-step instructions and pictures to guide bakers through the whole process.