Are you looking for the right gift for your bread baker friend or family? From novice to experienced bakers, they probably have a thing or two that they want to get. Listed below are products that are great to gift a baker for any budget. Check out these ideal gifts for bread bakers, they will love them!
How about a home proofer from Brot and Taylor?
The Brot & Taylor Folding Proofer & Slow Cooker is a revolutionary kitchen appliance. This combines the functions of an electric proofing box with a slow cooker. But it's the proofing function that's going to appeal the most! With this machine, you can make bread without having to worry about proofing times ever again.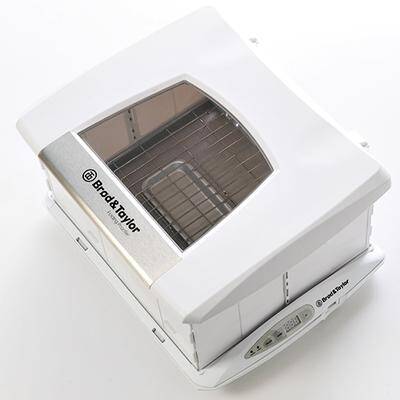 Get your home proofer gift from Brot & Taylor
The must-have home baking product of 2021 – The Challenger Dutch Oven:
The Challenger Bread Pan is designed specifically for baking better bread. It has a thick black cast iron that delivers uniform, radiant heat to your bread. Steam is retained to protect the surface of the dough and make bread with a perfect oven spring! Expect bread with beautifully browned crispy crusts. Every detail was designed by bakers, for bakers with purpose. They won't be disappointed with a Challenger!
View the latest price for Challenger Bread Pan
A "proper" bread knife is going to make you popular!
This 12.5-inch blade is perfect for cutting through crusty bread and pastries with ease. The serrated edge will ensure that your bread is cut cleanly. No tearing, ripping and the ability to cut slices thinly and avoid the doorstops (if you wish!). It's also dishwasher safe so cleanup is a breeze!
Sourdough fanatic? They'll like some San Francisco Sourdough Culture
San Francisco Sourdough Starter is a traditional sourdough starter that's been around since 1849. It's made with unbleached white wheat flour and contains live bacteria that are dormant. It will stay fresh for months without refrigeration or freezing. The starter is rehydrated with water to make a thick batter and can be used almost straight away!
Get a sourdough starter gift from Amazon
With a NutriMill Classic Grain Mill they can make their own flour!
The NutriMill Classic is the most advanced grain mill on the market. It's perfect for people who love baking or cooking from scratch. With a powerful motor and a 400% range of adjustment, it can produce any type of flour you need in just seconds. And with its improved design, it's quieter than ever before!
The Bread Baker's Apprentice book – They need to read this!!
The Bread Baker's Apprentice is the ultimate guide to baking artisan bread at home. With more than 100 recipes, this book is great for novices and experienced bakers. You'll find detailed instructions on all aspects of making great bread. This includes dough-making techniques, shaping methods, hearth oven techniques, and so much more.
Get a copy of "The Bread Bible" from Amazon
A bread lame is the perfect gift for a bread baker!
The SAINT GERMAIN Premium Hand Crafted Bread Lame is a great addition to any baker's kitchen. This lame was designed with meticulous craftsmanship and will last you a lifetime. It comes with replaceable blades that can easily be changed with standard razor blades. This makes your blade never need sharpening again.
See the latest price on Amazon
The Premium Baguette Transfer peel is perfect for creating the best bread possible. This is made of high-quality materials and designed with functionality in mind.
Your recipient will thank its bevelled edges for an easy time transferring dough onto the baking surface. It also has a hole for hanging it up when not in use! They will love this board.
This is a great pair with Saint Germain Bakery's Premium Professional Bakers Couche. The fabrics of this couche will exceed all expectations. Use a couche like this to proof baguettes the traditional way, just like they do in France!
But if you want to try using a baguette tray, the Amagabeli Nonstick French Baguette Pan is a must-have! These pans come with 3 loaf perforated bread trays. This is designed with a food-grade non-stick silicone coating that's safe for high heat baking use.
Bread stencils make bread so much fun!
These stencils are perfect for adding designs to your artisan bread. You can use them on any type of dough and they're easy to clean, so you'll be able to enjoy them again and again. Plus, they come in 12 different styles so there's something that will work with every occasion!
Every baker needs a good set of baking scales
Any serious home baker has a reliable set of scales. Bakers need durability, speed and reliability in their scales. Well, these scales from My Weigh have all of this! What's more, they have a large flat surface which is ideal for dividing large pieces of dough. These scales are the most popular product in home bakeries. They are really easy to keep clean so there is no reason your friend or family member won't love them!
But if you want more accuracy, you might want to check this one out. The Fuzion Digital Kitchen Scale is made of high-quality materials and features a 500g/ 0.01g capacity. It can measure any kind of food or liquid! Plus, it has an LCD backlit display that makes reading weights easy on the eyes. You won't regret buying this amazing product as a gift!
Luxury baking ware is a fun gift for bread bakers!
The Saukore Adjustable Bib Apron with Long Ties is the perfect kitchen companion. It's durable but also comfortable to wear. You can adjust the neck strap and extra-long ties to make sure you have plenty of room in this apron. This has one big pocket that will hold anything from your phone to recipe cards. Making it easier than ever to keep track of everything while still baking.
A dough thermometer makes the best gift!
This instant-read thermometer will give you an accurate reading in 3-4 seconds. One of the best features of this is it's waterproof! It can be used for liquids, food, meat, candy, cheese or chocolate. The 10-minute auto-off feature makes sure that your battery won't die on you when you need it most.
If you've enjoyed this article and wish to treat me to a coffee, you can by following the link below – Thanks x