Equipment Guide For A Home Bakery Set-Up
Want to start baking bread but not sure what equipment you need? This list of baking equipment is perfect for anyone that wants to start baking at home or for bakers wanting to diversify into other styles of bread. I've given my honest thoughts on what and why you might want to invest in these items. As long as you have an oven, you're all set!
If you need to keep costs to a minimum, try my budget bakery set-up
Hey there! Some links on this page are affiliate links which means that, if you choose to make a purchase, I may earn a small commission at no extra cost to you. I greatly appreciate your support and I hope you enjoy the article!
Equipment list for a home bakery
Bowls
Bowls are essential to make bread at home. You'll use them to weigh ingredients, mix and for fermenting your dough. A decent set of bowls will last a lot longer than the flimsy plastic ones so it's worth spending a little more if you can. If you don't have some bowls, here is a set with lids. You'll need to cover the dough as it rests therefore a lid or some plastic wrap will be required.
Scales
You can use cups and spoons to measure your ingredients but for accuracy, you should really invest in a decent set of scales. This set from Myweigh will weigh up to 6 kilos at 1 gram increments. It can also be supplemented with a set of precision scales if you want to be accurate down to 0.01 gram which is handy when weighing small amounts of yeast and salt.
The 7 Things You're (Probably) Doing Wrong!
Improve Your Baking Skills With My Free Email Course- Sign Up Here!
Dough scrapers
Once you've got a pair of dough scrapers, you'll be using them all the time! A metal scraper is used for dividing dough and cleaning tables. It has a blunt blade that's not going to dent your worksurface whilst slice through dough easily. Whereas a plastic scraper is perfect for removing dough out of bowls, kneading and cleaning bowls. Treat them well and they'll last a lifetime!
Peel
If you want to bake directly on the stone, you'll need one of these. A bakers peel is used to slide your bread in and out of the oven. It's essential for making pizza and sliding sourdough loaves in the oven.
Oven gloves
If you're planning on making bread in a tin, you will need a decent set of oven gloves to take the bread from the oven. Here are the ones I recommend, they have long arms, can cope with high temperatures and are easy to slide on in a hurry.
Baking stone
To convert your oven into the perfect baking chamber, you'll want a baking stone. This baking essential conducts heat into the base of the loaf for even baking and better oven spring. You also might want a second stone placed above the bread to help the oven retain heat and bake the top of the loaf evenly.
Proofing tins and trays
To proof bread, you'll need a bread tin or perhaps a banneton to support the dough as it rises. Baking equipment needs to be able to cope with high-temperature baking without warping. These baking tins do just that and are great for beginners!
If you wish to also make bread rolls and pastries a decent baking sheet is a must. To line the trays for soft rolls and pastries you will also need baking paper.
Deep tray or a water mister
For a crisp crust, you will be adding water to the oven. Common methods home bakers use include pouring water in a preheated tray that's underneath the bread or by spraying water inside the chamber with a water spray. To help your oven hold its temperature when the water is added your baking tray can be filled with lava rocks.
Lame
To score beautiful designs in your bread, getting yourself a lame is a great idea! With one of these tools, your bread will be just as "sharp" as your favourite bakers!
Cooling rack
To cool your bread it's best to have some airflow underneath so a cooling rack is a handy contraption! If you don't have one already here's an excellent choice from Amazon.
Timer
We use our phones for everything these days but once you realise yours is always covered in flour, you'll soon realise why I recommend a designated timer! It's especially handy when making several loaves to keep track of fermentation and to time kneading and baking duration.
Mixer
Although not essential to make bread, a dough mixer does make things a lot easier! Most bakers are surprised by how much more bread they make at home when they get one! When selecting a mixer, I recommend that you stay away from the KitchenAid and Kenwood. Instead, try the Ank or a Bosch. These two are recommended by home bakers in their droves! 
Additional baking equipment
Thermometer
A dough thermometer is used for checking dough temperatures to maintain proofing duration and warming the water when blooming yeast. Though not essential to make bread, every baker will struggle to make bread without a temperature probe.
Dutch oven
Mainly used by sourdough bakers but also for many other types of bread. I love my Uno Casa oven, as well as the Challenger bread pan. The Challenger is much bigger which allows me to make different types of bread. Both are great, but the Challenger just edges it!
Danish whisk
A handy tool used to incorporate the dough during the early stages of mixing. Save your hands from getting dirty with this Danish whisk from Amazon!
Sieve
A sieve is a great accessory when dusting flour on the table (or the bread) or removing unwanted items from the flour. Check out this sieve from Amazon if you don't already have one!
Brioche moulds
If you want to have a go a Brioche au tete, you'll need brioche moulds. These moulds are great and will last you ages!
Proofer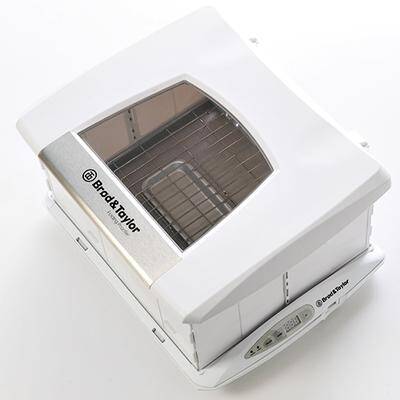 To control temperature and humidity when proofing your bread, a home proofing box is fantastic. No more worrying about dough being too cool to rise when you have one of these! The best one is this one from Brod & Taylor, it's a real workhorse!
Stencils
Add fancy designs to your bread by using these stencils when dusting flour on your bread before baking.
Pizza oven
Grab a couple of cool ones and invite some friends over for a garden party! This pizza oven from Woody reaches very high temperatures. You'll think you're in Italy sat in your backyard!
Mill
Making your own flour is not just fun, it's good for you too! Try this mill.
Baguette tray
The traditional way to make baguettes is with a couche and a baguette peel. But if you don't want the hassle (or flour everywhere) get yourself a baguette tray like one of these.
Oven thermometer
If you are having issues when baking your bread an oven thermometer can be a blessing in disguise! Use it to check that your oven is really at the correct temperature.